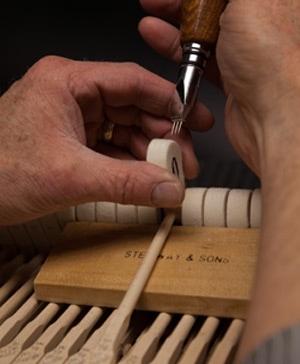 Every piano has a unique sound quality, a voice. Much of the difference is due to design, but even pianos of the same make and model will sound different. The procedure of modifying a piano's tone quality is called "voicing".
Sometimes a piano will sound very metallic, with clanging tone quality. Sometimes the sound is muffled and dull. Often there will be certain notes that exhibit these qualities more than their neighbors. Voicing evens out the tone and can make the sound brighter or darker to a certain degree.
Bright, metallic tone is often caused by hard hammers. You can look at the hammers on your piano. Where the hammer strikes the strings you will see grooves. These grooves are where the felt has compressed and has become more dense. If these grooves are not too deep, the hammers can be reshaped by sanding,
The overall tone quality of a piano can sometimes be made brighter by chemically hardening the hammers.
Subtle changes of voicing and getting notes to match is achieved by "needling" the hammers. This entails delicately changing the felt fibers using a sharp needle.
Thuddy sounding notes in the bass are most often caused by dead strings. Sometimes giving the strings a twist can sometimes improve the tone.
Whatever is done to a hammer is usually not very reversible. So, before even touching the hammers, the strings need to be well seated, level, and in-tune and the piano should be well regulated.
For certain pianos, the only remedy for deteriorating tone is to completely re-string the piano, replace all of the hammers, or even rebuild the action. These are expensive propositions and are usually applied only to pianos of reasonable value.
The short story is that you
can
change the tone quality of your piano (within reason). People who like the way their piano sounds tend to play more often. I can only assume that they are finding their experience more enjoyable.
Please ask me about how voicing or regulation might help you love your piano more. Call or send a message. For a more detailed assessment,
let's schedule a tuning
and we can look at your piano in detail. Voicing and Regulation are included in our Full Service appointments.